MSI GeForce GTX 1060 3GB graphic card does not trigger its boost state when its GPU is loaded at 99-100% with NiceHash miner. Compare the values in the green rectangles: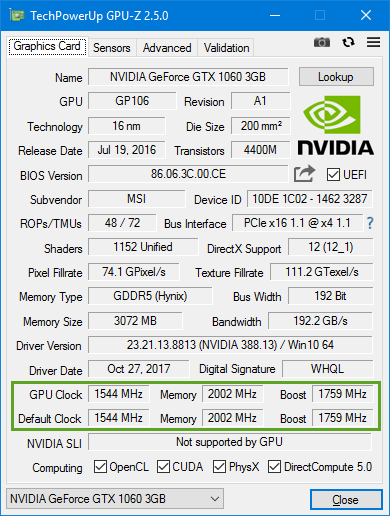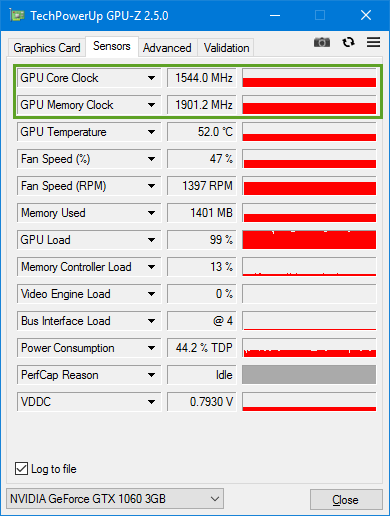 GPU сore сlock is only 1544 while the boost value is 1759 and it stays the same even if I change master core clock with MSI Afterburner. And what is even more strange, the memory clock is only 1901.2 while its default value is 2002. When I start an application with relatively complex graphic interface, GPU core clock rises to its correct boost value, but memory clock remains the same: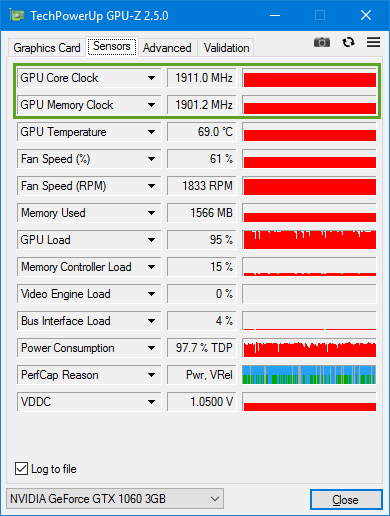 The temperature is 52-69°C and fan speed is 47-62%, so there are no obstacles for boosting.
I have an impression that my graphic card does not boost while doing compute work (but partially boosts while rendering graphics) as described here:
Taking into account that overclocked GPU works at 2100 the miner looses about 26% of his bitcoins, the formula is 1 – 1544 / 2100 = 0.26.
I tried

nvidia-smi -q -d PERFORMANCE
nvidia-smi -q -d SUPPORTED_CLOCKS

and got the following result: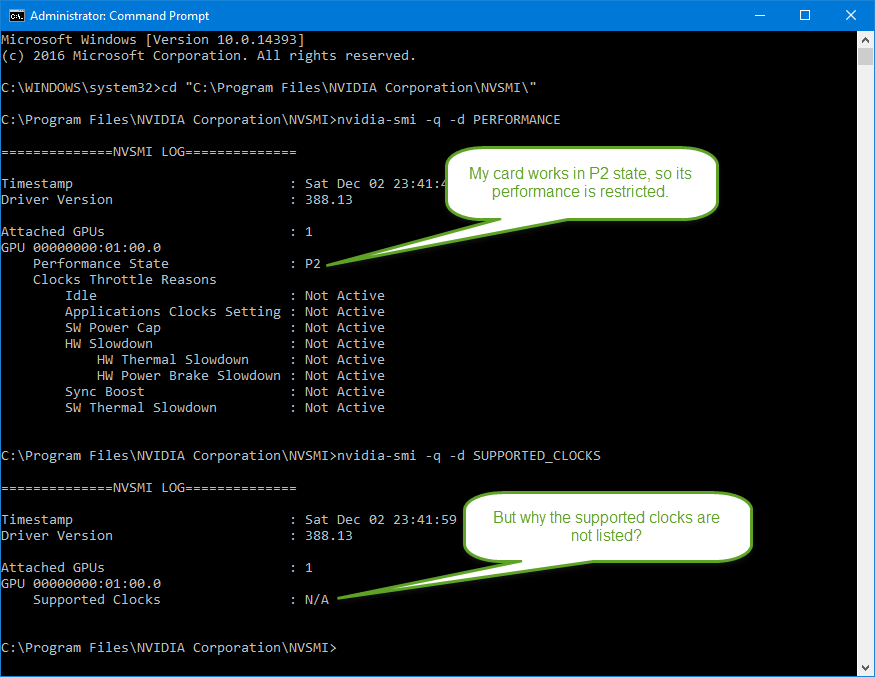 so I am unable to do something like:

nvidia-smi -ac 3505,1455

because I do not know the maximum supported GPU Clock.
I have Window 10 with NVIDIA driver version 388.13 (23.21.13.8813 with date 10/27/2017).
A quick Google search gives the following links:
nvidia-smi not fully supported on GTX 1060


I can put GTX 970's into P0 state by first quering SUPPORTED_CLOCKS and then issuing the nvidia-smi -i [x] -ac 3505,1455. However, for the GTX 1060 I cannot either query supported clocks nor set them.
I have 2 cards (ASUS ROG-STRIX-GTX1080-O8G-11GBPS and ASUS ROG-STRIX-GTX1080TI-O11G-GAMING). As soon as I start any CUDA app and card enters compute mode it lowers memory clocks from 11GHz to 9GHz for 1080 and from 11GHz to 10GHz for 1080Ti.
While doing the Google search I found very interesting article comparing NVIDIA and AMD cards efficiency telling that GTX 1060 is one of the best cards for mining.
Finally I switched P2 state off with NVIDIA Profile Inspector that I built from sources: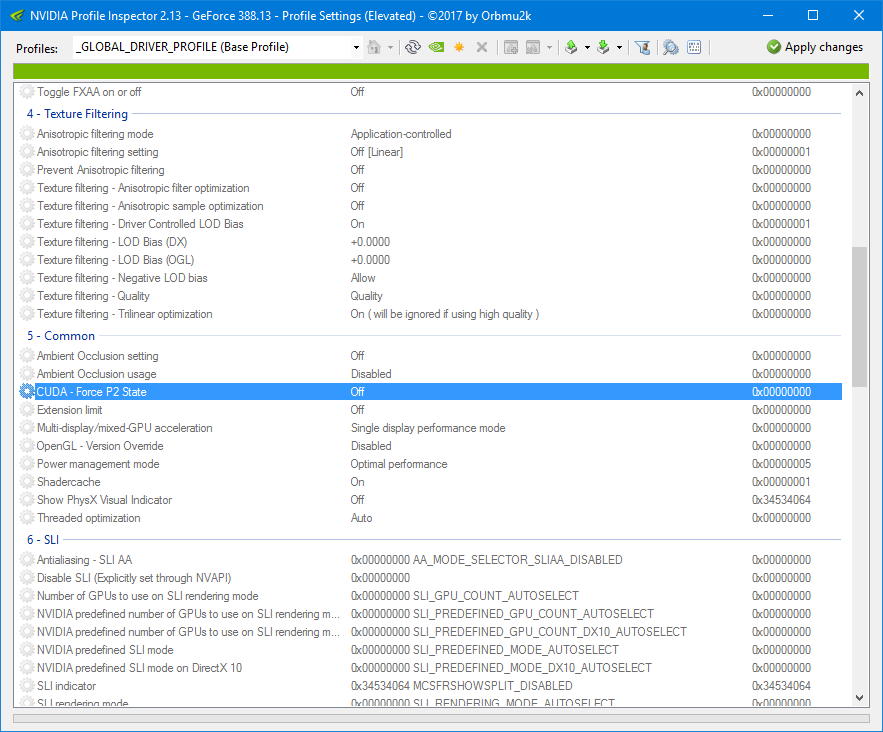 Now the card switches to P0 when the mining software is started: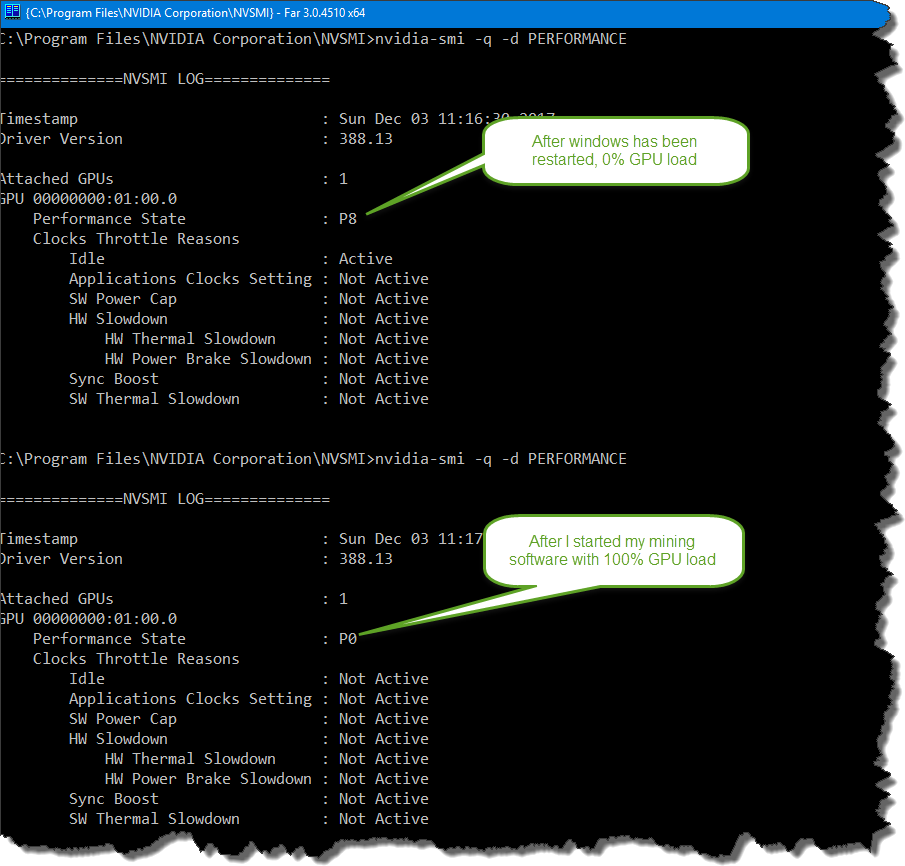 Compare memory clock with pictures above: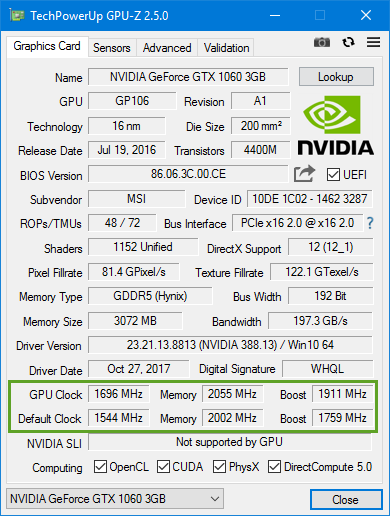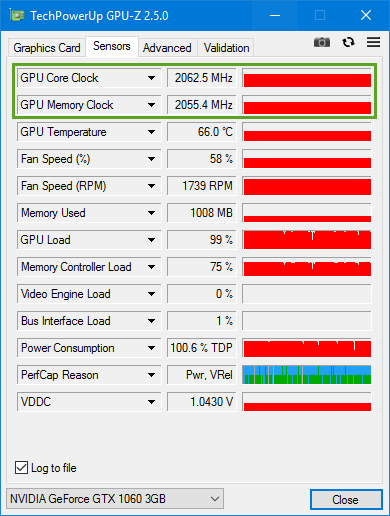 on these pictures the card is a bit overclocked: GPU +152MHz, Memory +102MHz.
With GPU +197MHz and Memory +244 MHz I have about 300 sol/sec with Zcash on fly pool (I am not sure what is 'sol', but I guess that it is probably 'solution'):